Backgammon Free
2.32
Play Alone or With Friends
Backgammon is a popular game and it is good to play it regularly as it will help you improve. In order to do well, you need to be skilful and be able to work out your strategy. It is often played for money but can be just as enjoyable when played for fun or practice. It is believed to have been played more than 3000 years ago in Egypt and has travelled and endured.
When first installing the app there is a variety of ways to register for the backgammon game. You can begin as soon as you have been through the registration process. There are adverts that appear if you want to keep the app free, but if you are prepared to pay then can be removed. You will also have to give the app permission to access your photographs and files so this is something to consider when deciding what to do.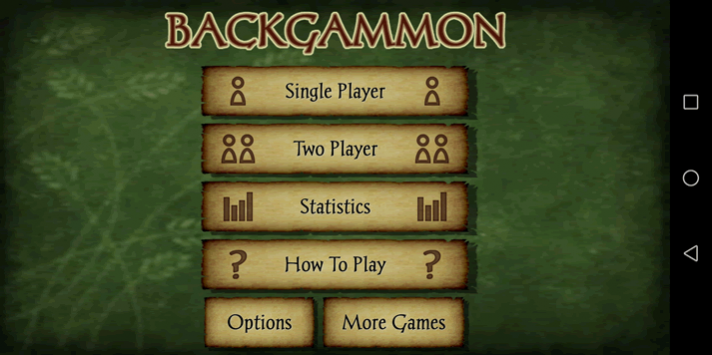 When you begin to play Backgammon Free, you decide if you are going to play alone or with another person. If you are not sure how to play then you can select the "How to Play" button and go through the rules before you start. If you want to play with sound then you can. Some moves are legal and there are some that clearly are not. You can find out which is which making it a better game to play and less chance of making mistakes.
As it can be a hard game to play effectively for a newcomer, so it is good to know that there are helper prompts. There are 5 different levels that can be played so it is possible to start off at the lower level and stay there until you are ready to move up to the next one. If you want to look for more games there is a button that can be clicked and you will be taken there, but you will not want to leave the backgammon game.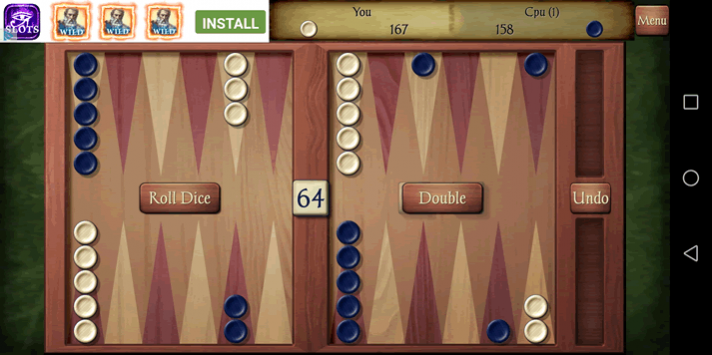 When you are playing Backgammon Free, you will see your score and your opponents' score at the top of the screen. This is where a lot of the adverts will appear but they will not be too much of a distraction. There have been concerns as to whether or not there is the chance of cheating in the app but as Real-World dice are used, this will not happen.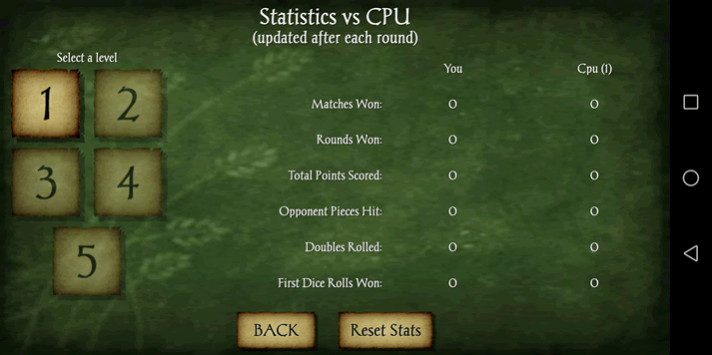 To show your progress, you can go to the statistics page. It will show you how many games you have won against the CPU. You will see how many points that have been scored, how many doubles have been scored and how many times your opponent's pieces were hit. It will also show their score, so it is a full picture that is given. To make sure that you always know what level you are on and how well you are doing, the app will update every round.
Features:
There are 5 levels of difficulty
You can enjoy full match play
There is the Crawford rule options
You can choose from 4 boards
You can play alone
There are hints to help you
You can play in a phone or tablet
Conclusion
This backgammon game app is going to give you the best of both worlds. The option to play alone, or to test yourself against others. There is help when you need it and an option when it comes to the set out of the boards. As you can progress through the levels there is no need to get bored with playing the same level all the time. As this can be played on a phone, it will allow you to carry on playing wherever you are.
---
Add a review
Tell us your experience with
Backgammon Free
2.32
RELATED PROGRAMS
Our Recommendations
---
---
---
---